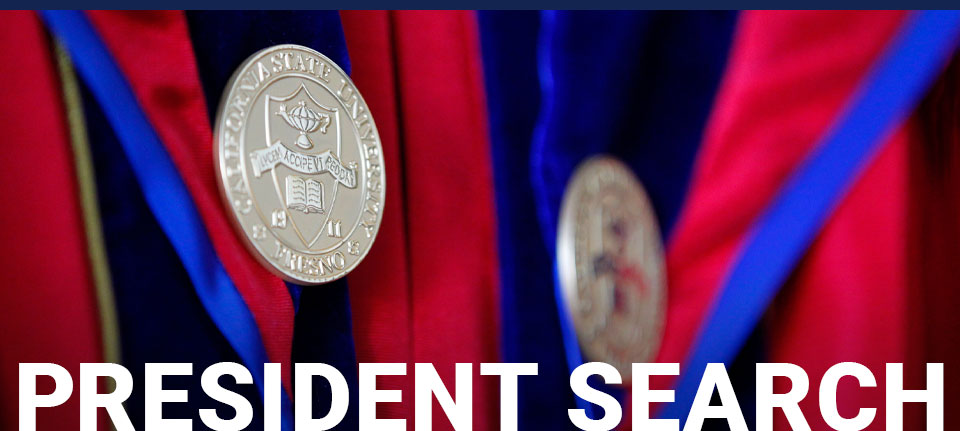 The California State University (CSU) Board of Trustees is beginning the search for a new president of Fresno State to succeed Dr. Joseph I. Castro, who now serves as the Chancellor of the CSU.
CSU board policy requires the chair of the CSU Trustees to appoint a Trustees' Committee and an Advisory Committee to oversee the search. The Advisory Committee is composed of representatives from faculty, staff, students, and alumni, as well as a member of a campus advisory board, all of whom are selected by the campus's constituency groups. Also on the Advisory Committee is a vice president or academic dean from the campus, and a president of another CSU campus - both selected by the chancellor. Both committees function as one unified group.
A Survey Monkey is available for the campus and external community to submit comments regarding professional qualifications, experiences and personal attributes you feel the next President of Fresno State must possess to be successful.

---
THE RECORDING OF THE FRESNO STATE PRESIDENTIAL SEARCH VIRTUAL OPEN FORUM
---
Presidential Search Committee
Joseph I. Castro
Chancellor
Lillian Kimbell
Chair, Board of Trustees
Jane W. Carney
Trustee and Chair, Search Committee
Diego Arambula
Trustee
Wenda Fong
Vice Chair, Board of Trustees
Krystal Mae Raynes
Trustee
Robert S. Nelsen
CSU Sacramento, CSU President Representative
Paula Castadio
Vice President of Advancement, Administration Representative
Thomas Holyoke
Chair, Academic Senate
Joy J. Goto
Faculty Representative
Jenelle S. Pitt
Faculty Representative
Georgianna Negron-Long
Staff Representative
Jacqueline Campos Ledezma
Student Representative
Elizabeth Rocha Zuñiga
Student Representative
Edgar Blunt
Alumni Association Representative
Nicole Linder
University Advisory Board Representative
Carol Chandler
Community Representative
Clint Williams
Community Representative