Currently Enrolled Students
I am currently enrolled at Fresno State...what do I need to do to ensure I'm on track to graduate?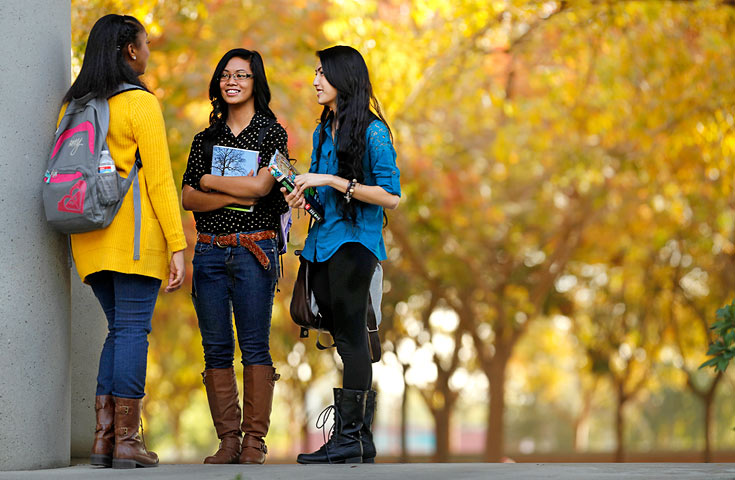 Mandatory Advising
All students are encouraged to see their advisor at least once per semester.
Roadmap Advising
ALL STUDENTS must visit an advisor before completing 75 units. After completing 60 units, you will receive a warning indicator ("MA1") on your Student Center. After completing 75 units you will see a registration block indicator ("MA2") and will not be able to register for classes until you visit an advisor for roadmap advising.
Credential Program Advising
Students pursuing a Multiple Subject (elementary teaching) and/or Education Specialist (special eduction teaching) credential receive advising in the Education Student Services Center, located in room 100 of the Education building.
All Liberal Studies advisors provide information regarding various ways to complete the Multiple Subject and Education Specialist credential programs. In addition, assistance is provided to explain the structure of the programs, filing deadlines, and admission requirements including needed examinations and prerequisites.
Graduation
Students approaching graduation can find information regarding the graduation application process, activities, and commencement by accessing Crossing the Finish Line. Additional information can be found here. You should also see your Liberal Studies advisor for guidance.
Other Helpful Information and Tools
Degree Road Maps
coming soon...
Catalog Rights
In order to determine specific degree requirements, Liberal Studies Blended majors must first understand "Catalog Rights". These requirements are mandated by the State of California according to the California Code of Regulations. They are designed to protect students as they progress through school to the completion of their degree.
ASSIST
Students who wish to attend summer school or concurrent enrollment at another California public junior college or university may search for possible equivalent courses. ASSIST is an online articulation web site that hosts the equivalencies of courses within the California public junior colleges and universities by institution, major, general education, and department according to catalog year. It is important that the search is based on the students catalog year. Also, note that some articulations are not current and have not been reviewed for several years. Please consult a Liberal Studies advisor for further assistance.