We Welcome
Richness in Culture, Creativity and Diversity
Fresno State welcomes students of all backgrounds. We strive to create an open, accepting university by rejecting and overcoming barriers that limit accessibility.
Fresno State student Justin Torres is the ideal campus tour guide. He knows all types of facts and figures about the university and enthusiastically shares them with prospective students who visit the campus.
His goal, he said, is to answer any questions and clear up any mysteries about applying for admission.
"I'm the first one in my family to go to a university," said Torres, who was born and raised in Fresno. "I know it can be a little scary."
Torres is part of Fresno State's many efforts to make the university as accessible as possible to students considering their options for higher learning.
"What we try to do is look for different ways to reach students," said Frances Peña-Olgin, director of University Outreach Services. "That includes face-to-face contacts, student visits to our campus, online chats and e-mail communications."
The multiple approach not only casts a wide network throughout California and beyond, but it's designed to ease any feelings of intimidation that a high school student might experience about the application process. In addition, Fresno State welcomes adults, such as college transfers, military veterans and working parents who want to resume their college educations.
At the high school level, the University Outreach Services staff work with guidance counselors to make sure that they have up-to-date information about Fresno State, its procedures and its requirements. Also, Fresno State students visit high schools to share their knowledge and provide information about financial aid, scholarships and other topics.
Another key step is the Fresno State campus visit. The University Outreach Services office conducts daily tours of the university, Monday through Saturday, year-round. Many times, Peña-Olgin said, the tour can be the deciding factor.
Campus tour guides such as Torres give a student's perspective about enrolling at Fresno State and what the campus has to offer. As a freshman in the fall of 2010, Torres estimated he was involved in about 200 tour groups that first semester. He talked to high school students, as well as those in middle or intermediate schools, and to families.
"I'm not much older than they are," said Torres, who also is a member of the Fresno State's Bulldog Marching Band.
Torres always gives helpful information. For example, he said, the scholarships process requires only one online application for more than 2,000 scholarships available at Fresno State. He also tells them about other forms of financial assistance.
The university's efforts don't stop there. The Internet is a significant tool to provide information. One method is a regularly scheduled online chat through the University Outreach Services office. Staff are available on selected dates for three hours of queries and answers. It's an optimal way to share information in one session with prospective students who may be logging in, not just locally, but from as far away as San Diego, Los Angeles, San Francisco and beyond California.
The outreach program – which possesses a vast database of names and contact information provided by prospective students – also sends a variety of e-mails, such as reminders about application deadlines.
And, there's also the telephone. Staff will call students to see if they're still interested in coming to Fresno State, or ask if they have any further questions that need responses.
When it comes to adults considering college or a return to college, Tanya Crabb knows what anxiety they may have about diving into academia.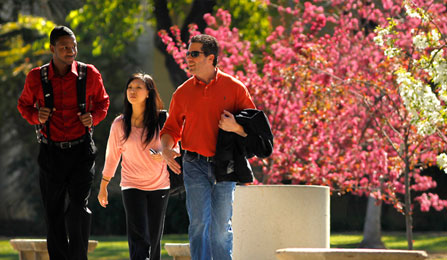 Crabb was a U.S. Marine veteran who served during the Gulf War. In the late 1990s, she earned a bachelor's degree in psychology at a New York City college, making her the first generation of her family to attend college and graduate.

Several years ago, she and her family moved to California. Her husband, Robert, is pastor of a Madera church. And Crabb, who's also a mom, is a youth leader at the church. A return to higher learning was the last thing on her mind, but an idea to resume her education lodged there and wouldn't let go. Her husband and a friend supported the idea.
Though she had some trepidation about school, she decided to see Dr. Albert Valencia, who was then involved in a Fresno State mentoring program. Crabb said he listened to her and encouraged her. She then visited the university's website for more information. "I can do this," she thought.
Crabb enrolled at Fresno State and is pursuing a master's degree in marriage and family therapy. She has a lot of support from faculty and students, especially those like her who have returned to school. She tells adults considering the same move that Fresno State's faculty and staff want them to succeed and will provide guidance.
In attracting students, Fresno State has another prime feature: geographical location. Fresno is in the heart of California. As Peña-Olgin said, local students who want to stay close to home can "attend a quality university with an excellent academic program." At the same time, students from other parts of the state will just be a few hours away from a weekend visit home.
Fresno also offers easy day trips to the coast or to Yosemite National Park. The city itself has a full schedule of special events, performing arts venues, shopping malls, sports and other activities. This, of course, doesn't include the sporting events involving Fresno State teams and the live performances presented by Fresno State students and faculty.
Best of all, Fresno State provides a real, collegiate experience. The university is not too large, nor too small. Students and faculty and staff develop strong relationships.
"We're just right," said Peña-Olgin. "We're a very exciting university. We have a full, academic program. We have lots of school spirit. Fresno State has a lot to offer students."