We Teach
Our Commitment to Academic Excellence
A university's prime mandate is to teach. And at Fresno State, we strive to provide the broadest, most comprehensive environment possible for teaching our students.
From its modest beginning in 1911 as a teacher-training school, Fresno State has established itself as an academic powerhouse.
The university not only is the leading educational institution in the central San Joaquin Valley but has earned a stellar reputation far beyond California. Its commitment to academic excellence, through the talents of an award-winning faculty, has provided a strong foundation for Fresno State's ever-expanding role in research and partnerships that have a global reach.
California State University, Fresno has eight distinctive schools and colleges that include 26 departmental programs awarded national accreditation – a number that ranks among the highest in the CSU system. And California State University, with its 23 campuses, is one of the largest university systems in the world.
"Our schools and colleges offer programs that give students both career-oriented and personally enriching preparation in the liberal arts and sciences. They offer professional training in the business, engineering and health professions. And they provide dedicated and effective teachers to the region," said William A. Covino, provost and vice president for Academic Affairs.
Indeed, Fresno State's schools and colleges cover a wide spectrum of studies that attract students from throughout California and beyond:
The Jordan College of Agricultural Sciences and Technology is widely recognized as one of the best agricultural education institutions in the nation.
The College of Arts and Humanities, the largest college on campus, has a long tradition of faculty and alumni who have distinguished themselves in music, film, theater, journalism and other fields.
The Craig School of Business has grown in stature and earned numerous accolades, such as its inclusion on The Princeton Review's list of top business schools in the country.
The Kremen School of Education and Human Development not only is the region's largest producer of teachers but provides expertise to professionals who want to keep current in their fields.
The Lyles College of Engineering offers its students the latest and best in engineering technology as well as opportunities for innovative projects with industry leaders and government agencies.
The College of Health and Human Services features a highly regarded Nursing Department; offers a variety of other studies and advanced learning; and includes programs focused on current health issues, such as obesity.
The College of Science and Mathematics is a hub of activity and exploration, where students can work together with faculty on published scientific papers as well as prestigious projects.
The College of Social Sciences explores the complexity and depth of human existence - from anthropology to criminology to women's studies - and offers ample opportunity for practical experience.
These schools and colleges combined offer a lengthy list of bachelor's degrees and more than 40 master's degrees. But Fresno State is always looking to expand what it can do for students.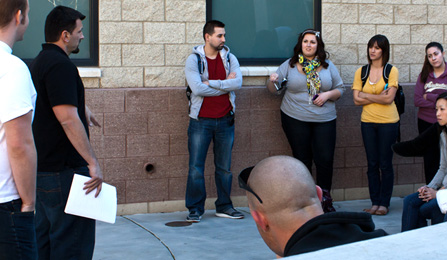 "We offer a widely acclaimed doctoral program in education leadership, and we are currently developing two new doctoral programs, in nursing and physical therapy," Covino said.

The university also is committed to implementing more methods that complement its academics, especially as students' digital and technological knowledge grows in sophistication. For example, the campus will increase its number of online courses and programs.
Fresno State also complements its academic studies with a range of distinctive programs, such as The Smittcamp Family Honors College that blends the challenges of a small liberal arts program with the experience of a large public university. Another example is the Office of Study Abroad and International Exchanges, which works to help students and faculty participate in international programs here and beyond the United States.
Another asset for students is the impressive Madden Library that underwent a $105 million expansion and reopened in early 2009. The library, which includes flat-screen computers and an array of other high-tech features, is one of the largest libraries in the 23-campus California State University system. It also is the largest academic library between Sacramento and Los Angeles.
The breadth of the academic experience includes a commitment to give back to the community. In 2007, President John D. Welty challenged the university to volunteer one million hours before the 2011 Commencement. The university's students, faculty and other staff members met that goal a year ahead of schedule. These acts of volunteerism continue to thrive.
The university's graduates include astronauts, farmers, business executives, Academy Award winners, judges, political leaders, scientists, university presidents and acclaimed writers. They all started their journeys by embracing the invaluable academic experience offered at Fresno State.