We Energize
The Jordan College of Agriculture at Fresno State
Fresno State faculty and student agriculture researchers, working with industry partners, develop innovative solutions to some of agriculture's most pressing production and resource-preservation challenges, energizing a region where agribusiness is the driving economic force.
Since the early 1960s, farmers and residents in the Mendota area could rely on the Spreckels Sugar plant as part of the agricultural and economic landscape in west Fresno County. But, in 2008, the company shut down the plant because of a decline in sugar beets acreage, and 200 people lost their jobs.
That sad episode, however, isn't the end of the story in Mendota. A determined cooperative of farmers is attempting to build a biorefinery plant - at an estimated cost of more than $200 million - that would use sugar beets to generate energy. And, Fresno State's Jordan College of Agricultural Sciences and Technology is a vital part of the enterprise.
The plant is just one of many research projects that involve the faculty and staff of Jordan College, which is considered one of the best agricultural education institutions in the nation. The college's efforts reflect Fresno State's commitment to research that not only improves life in the San Joaquin Valley but provides solutions to challenges throughout the United States and around the world.
In 2010, the proposed Mendota plant was rated the highest among 44 projects submitted to the California Energy Commission. The agency awarded about $1.5 million to the Mendota proposal, one of only 12 given funding. The money will allow project proponents to conduct more preliminary work on the plant.
If the plant happens, it would increase production of sugar beets and provide much-needed jobs. It also would be a clean-running operation by using sugar beets, almond tree prunings and other agricultural waste to make ethanol, biomethane and electricity. In addition, wastewater from the plant would be treated for use in irrigation.
Numbers illustrate how big this operation would be. For example, the plant each year would process nearly 1 million tons of locally grown sugar beets and produce 33.5 million gallons of advanced ethanol and 1.6 million cubic feet of biomethane.
The plant would be located near facilities that also run cleaner and greener: the Covanta Energy biomass plant, just east of Mendota, and a nearby Cleantech America solar park.
Bill Pucheu - a partner in Pucheu Brothers, a farming operation in Tranquillity - is a member of the Mendota Advanced Bioenergy Beet Cooperative that's working to make the power plant a reality. He said that project coordinator Jim Tischer, who works for the California Water Institute at the university, has provided quality expertise.
"Fresno State brought a very valuable person to us in Jim," said Pucheu, who is a Fresno State graduate. "We appreciate the assistance that Fresno State has lent us. I really think it helped to speed this along."
Tischer said that it's Fresno State's mission to provide the academic foundation for the sustainable economic advancement of the Fresno region, central San Joaquin Valley and California. In turn, Jordan College is committed to supporting area farmers, allied agricultural businesses and workers to develop "sustainable long-term, environmentally enhancing projects."
The Mendota proposal fits that description. For example, all the finished renewable fuels, electricity, biomethane and fertilizer would be sold in the local region. It's estimated the plant would generate $90 million annually in economic activity.
Tischer said: "The completed Mendota biorefinery – by providing jobs to local people, revenue to area farmers and tax base to the city of Mendota and Fresno County – adds to the economic viability of the entire region."
The California Water Institute is one of several Fresno State-based centers and institutes. Others include the Viticulture and Enology Research Center and California Agricultural Technology Institute. In addition, Fresno State is part of the California State University Agricultural Research Initiative that involves sister CSU campuses in San Luis Obispo, Pomona, Humboldt and Chico.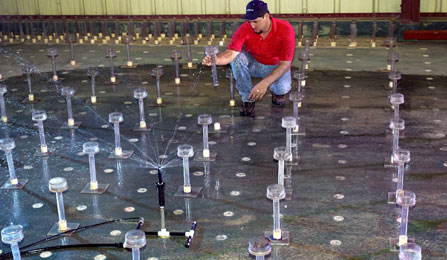 The proposed biorefinery plant itself involves other entities, such as the University of California, Davis.

The Mendota project is just one example of the Jordan College's long-term and expanding dedication to research. Here are just a few more examples of more recent Jordan College research activities:
Fresno State collaborated with the U.S. Department of Agriculture and western San Joaquin Valley grower John Diener on an effort to reduce selenium in soil. They focused on canola, by processing its seed oil to mix with diesel fuel for farm equipment. Then canola meal with just a hint of selenium, was used as a cattle feed supplement.
The college's Center for Irrigation Technology helped put together complex irrigation equipment that delivered correct amounts of water through more accurately assessed soil moisture and air temperatures.
Dr. Gour Choudhury, a professor of food and nutrition, is working on a method that requires less water to peel fruit and remove lye during processing. Choudhury also is director of the University's Center for Food Science and Nutrition Research.
Fresno State's viticulture and enology research program has a partnership with Bronco Wine Co. that includes a commercial, 600,000 gallon-per-year facility to research winemaking.
Fresno State researchers and industry experts are using high-tech equipment to harvest grapes at their ripest for top-quality wine. The equipment includes near-infrared spectroscopy, GPS mapping and guidance and computer technology.
Of course, it takes funds to support research projects, and the Jordan College has attracted hundreds of thousands of dollars from government agencies and private industries seeking creative solutions and innovative ideas.
The college's success in grants, for instance, is part of the university's achievements in competing for this type of funding from federal agencies. The Office of Research and Sponsored Programs announced in 2010 that Fresno State had been awarded more than $168 million in grants during the past five fiscal years. Those grants came from agencies that included the National Science Foundation and the US. Department of Agriculture.
And the Jordan College's endeavors will receive a significant boost through a jaw-dropping gift to the agricultural sciences and technology college: In 2009, the Jordan family of the East Bay area donated $29.4 million to the college to support ag-related research and facilities. It's the largest, single donation in Fresno State history, and the college was named in recognition of the family's generosity.