Transforming lives on and off campus
Fresno State, in the heart of California's Central Valley, believes in the power of transformational scholarship to elevate the quality of life in our diverse region and beyond.
This commitment comes at a historic point for the university. The campus marked its milestone centennial in 2010-11, celebrating a century of achievements. The centennial also signaled the growing importance of Fresno State in a region, called the "New California," that is experiencing challenges and dynamic changes.
Creativity and dedication fuel faculty and student work to address complex issues in areas such as water, health policy and education. Faculty research, student dissertations and a myriad of public and private partnerships are the chief channels for innovation and discovery.
"Transformational learning is the norm, not the exception, at Fresno State," says Dr. Lynnette Zelezny, associate vice president for Continuing and Global Education and associate provost.
"Transformational learning is life changing. It happens when motivated students interact with dedicated faculty on engaged scholarly activities."
Dr. Sharon Brown-Welty sees the impact from her perspective as dean of the Division of Graduate Studies and director of the Doctoral Program in Educational Leadership. For example, students in the educational leadership doctoral program are examining a broad spectrum of topics, such as classroom management, preadolescent emotional intelligence and school choice.
"The focus is on action or applied research, with research questions focusing on issues specific to the greater Fresno area – or the Central Valley," Brown-Welty says. "This research may actually be more rewarding for the graduate students because they see the direct results of their efforts, with recommendations and implications of their work targeted right where most of them live and work. It's very rewarding for them."
And, Brown-Welty says: "When citizens see that 'their' institution is contributing back to the region and their home, I think they become more appreciative of the university."
Fresno State offers two other doctoral programs, one in nursing and the other in physical therapy. The university also has 44 master's degree programs that range from the Craig School of Business MBA programs (which are rated among the best by the Princeton Review) to the acclaimed MFA Program in Creative Writing through the College of Arts and Humanities. Fresno State also offers certificates of advanced study in fields such as biotechnology and educational technology.
Transformational scholarship is a valuable experience for faculty members engaged in substantial projects and collaborative exchanges that they hope lead to viable solutions. These programs also attract national and international attention and visitors.
Fresno State for years has been deeply involved in critical water issues – such as urban water use, water treatment and irrigation methods. This work affects not only has impact in the Central Valley, with its extensive agricultural industry and growing population, but also can have global applications. The university's programs include the Center for Irrigation Technology, the International Center for Water Technology and the California Water Institute. Through these programs, Fresno State has established many important partnerships while providing solid expertise through research, testing and planning. The work has earned the university status as a leader in the field.
For example, "I would say, as a testing lab for irrigation equipment, we're probably number one in the country, and we work internationally to develop international standards," says Dr. David Zoldoske, director of the university's three programs.
One of Fresno State's current projects is in partnership with NASA, CSU Monterey Bay, and several other public agencies. The program involves looking at the use of satellite-based information to more precisely determine the water needs of agricultural crops.
Efforts such as these put Fresno State at the forefront as a facilitator to address water issues. As Zoldoske says: "I think it puts the university in the role of a good steward in helping solve a regional issue that perhaps no one else is situated to do."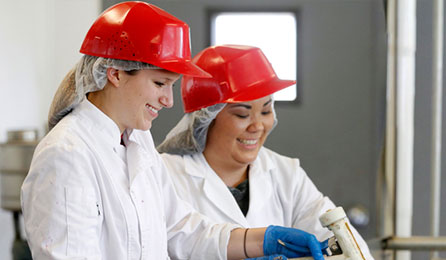 Across the campus, faculty members are immersed in intricate research that involves local, regional and even international partners. For instance, Dr. Lubo Liu, in the Department of Civil and Geomatics Engineering, has been collaborating with a professor at Tsinghua University in China on research forecasting water quality for drinking water systems such as reservoirs.
At the Central Valley Health Policy Institute, community involvement is a key component that includes a Regional Advisory Council. The institute's geographical focus is the valley's eight-county region. But its research and reports can have far-reaching impact because they address crucial issues, such obesity, water concerns and access to health care.
The institute in early 2012 – with the Joint Center for Political and Economic Studies of Washington D.C. – released the report, "Place Matters for Health in the San Joaquin Valley: Ensuring Opportunities for Good Health for All." Dr. John Capitman, the institute's executive director, led the San Joaquin Valley Place Matters Team on the project, which examined the links between social, economic, environment and health in the valley. The study's findings included this: Life expectancy varies by as much as 21 years depending on zip code.
"We have an extremely strong network of relationships," says Capitman, who also is the inaugural Sister Ruth Marie Nickerson Distinguished Professor in Health Policy. "The stories of the Central Valley and ultimately what we do are really important nationally and really are shaping national debate."
While transformational scholarship involves gifted faculty and committed partners, its core are the students who are inspired to push forward. Their talent and dedication not only strengthens Fresno State but the university's reputation for developing inspired thinkers.
Zelezny says that when she thinks of transformational learning, many programs come to mind. They range from "student winemakers in the Jordan College of Agriculture who win medals for producing premier wines" to "science students who work alongside leading cancer researchers in our NIH [National Institutes of Health] funded laboratories" to "students who study abroad to learn about other cultures and languages."
The Department of Earth and Environmental Sciences is yet another example of a program that blends the talents of faculty and students, with a focus on relationships. It maintains close associations with alumni, public agencies and the private sector. The department also offers a master's degree, and numerous students have been accepted at other prestigious universities to continue their studies.
Most importantly, students gain knowledge and hands-on experience. One option is a senior project (which students can undertake before the senior year). It allows a student to choose a topic, gather data, conduct analysis and consult with a faculty adviser, with the opportunity to present findings at national or international meetings and publish a report.  "One of the great pleasant surprises and joys was to see how students took to this," says Dr. Stephen Lewis, department chairman. "They just love it."
These type of efforts exemplify how Fresno State is helping to transform the world around it as well as the individual lives of its students. As Lewis sees it from his perspective: "This is a person-to-person kind of department. The nature of this department let's people feel at home. They know we're all here for them. We're all here for each other."