Innovative teaching enhances learning
In today's world of education, the classroom no longer is bounded by four walls.
The teacher, of course, still is the critical figure in a student's journey through higher education. But Fresno State, as a leader in the Central Valley, is committed to using a variety of methods and tools to ensure that each student is fully engaged in learning. This includes exploring new ideas in teaching, sharpening practices that are effective and broadening the use of technology.
The challenge for faculty and students lies in the reality of modern times. The university has a diverse population of students, and many are the first in their families to go to college. Many students also juggle demanding studies with work or long commutes. And then factor in this: Today's students most likely connect through social media, apps and other quick communication channels via smartphones, tablets and laptops.
"The lens through which they look at the world is different than the lens I grew up looking through. It's more expansive," says Dr. Michael Caldwell, associate vice president for faculty affairs and former chair of the Music Department and Academic Senate. "The reality that faces us is that a large number of our students are going to be working in jobs that currently do not exist."
Caldwell says higher education is entering an era in which collaboration among administrators, students, faculty and staff is more important than ever before. "If we find a wall that's not necessary, we should try to take it down," he says. "If we find a way for our students to have a better learning experience, why wouldn't we do that?"
Fresno State for years has searched for innovative ways to strengthen and boost student learning. Online courses via Blackboard and an array of other technology tools are just two examples of the university's approach to education in the Digital Age.
Perhaps the best symbol of the university's dedication to serving students can be found in a campus icon. "The most impressive example of Fresno State's commitment to enhance student learning environments is the Henry Madden Library," says Dr. Lynnette Zelezny, associate vice president for Continuing and Global Education and associate provost. "An integrated investment in student-centric space, innovative technology and support services, the Henry Madden Library is the heart of the Fresno State campus."
The library, which underwent a $105 million expansion, includes flat-screen computers; laptops that can be checked out; a media production lab; and a teaching complex that includes classrooms equipped with state-of-the-art technology.
Dr. Rudy J. Sanchez is part of the university's efforts to improve student learning. His responsibilities include serving as the faculty/course redesign coordinator for the Commitment to Latina/o Academic Success & Excellence program, which is being funded by a $3.18 million grant from the U.S. Department of Education.
The program's objectives include increasing the retention and graduation rates of Hispanic students. Part of the focus, as Sanchez's title implies, is course redesign.  In simple terms, it's any effort to change what happens in a classroom so that students are more fully engaged in lessons. It may involve more use of technology, or it may hone in on activities that challenge students to apply and demonstrate what they're learning.
The Biology Department has undertaken a course redesign in Biology 10. In fact, the Gates Foundation – in partnership with the Association of Public and Land Grant Universities – is providing funds and support to make the course a national model for course redesign. Fresno State is increasing faculty development in this area.
"Course redesign is not about making things easier," Sanchez says. "It's about maintaining the rigor and making it even more so because we really want to increase student learning."
Another approach is the "flipped" classroom. For example, what typically is considered homework becomes the key part of class time. Instead of a lecture, the professor assigns a problem. Students tackle the assignment, most probably working in small groups. The professor answers questions and listens in on discussions to determine if students are grasping the concept. The professor then can go over points that need clarification or further exploration.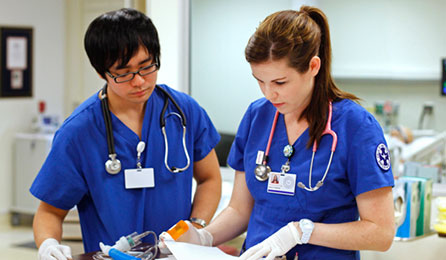 Outside of class time, the students continue to learn about the topic through reading,  website video tutorials or other sources. "I want them to connect to the material that they are taught," says Sanchez, an associate professor of management in the Craig School of Business.
Sanchez also is director of Academic Technology and Innovation, which includes CSALT (Center for the Scholarly Advancement of Learning and Teaching) and TILT (Technology Innovations for Learning and Teaching). The programs support faculty in expanding the use of technology and methods to spur student learning.
One of Sanchez's colleagues is Dr. Ida Jones. She is director for CSALT and a TILT fellow. She also is a professor in the Department of Finance and Business Law in the Craig School of Business. Enthralled with technology since she was a young girl, Jones is a proponent for using technology to enhance learning.
She encourages fellow faculty members to consider technology options for their courses. "What is it you're trying to accomplish?" Jones will ask a colleague. "Maybe there's a technology that can help you."
Through TILT, a variety of tools are available to faculty, such as lecture capture and screencasting technology. These systems record what happens in a classroom and can be shared with students who miss a class or need another opportunity to review a session.
Jones cited another example: i>clickers. The wireless system lets an instructor know immediately if students are understanding a discussion point or problem. Students use buttons on a clicker device (similar to a hand-held remote) to respond to questions. The feedback lets the instructor knows if the students are ready to move forward, or if more review is needed. Outside of class, the instructor can track and assess if students during the semester are understanding the material, based on the responses logged and stored in the system.
Online discussion boards are used at Fresno State. The professor poses a problem, which the students then can respond to online. Or, it can be a discussion that began in class and continues online. In each instance, Jones says, students have to participate.
This approach also can alter the course's in-class hours. For example, a class that meets Monday, Wednesday and Friday may only convene the first one or two days. The rest of the course may involve online discussions, additional reading, group studies, lessons via video or other activities. The objective is that students take responsibility for learning.
Jones also mentioned ePortfolio, a system that lets students collect their work in a way similar to a personal website, by uploading documents, photos, links and other material. "What's exciting about it is that it encourages learners to think about what they've learned," Jones says.
Meanwhile, Fresno State officials are anticipating the opening of the Computational Science Center, funded by a grant from the Keck Foundation. It is viewed as a cutting-edge approach to the classroom environment that will provide an invigorating focus on research and learning for the College of Science and Mathematics and the campus.