Students search for breast cancer cure
By Alan Wileman
The Collegian, Friday, Sept. 14
For the past few years, the science laboratories at Fresno State have been researching the possible links between pesticides and different forms of cancer such as pancreatic and breast cancer.
Biology professor Jason Bush, who has a doctorate in experimental medicine, and Fresno State students are working hard to find new ways to prevent and treat these cancers.
Recently the Fresno State science department has teamed up with Sanford Burnham Medical Research Institute, located in La Jolla, to allow several students to work over the summer at the Sanford laboratories and get first-hand experience with the technology and professionals in their field.
"They come back, and the goal is that we continue to get them hooked on science, so they ultimately pursue a career in science," Bush said. "Anything that we can do to get students more involved with STEM (science, technology, engineering and math), there's motivation for that, particularly minority students."
The science community has always been short on minority groups, so Fresno State and others are trying to get a wider range of people into the field of science.
"Minority students are underrepresented in science and science careers. That is part of the mandate mission for this summer program," Bush said.
The summer program is meant to continue the education and experiences of the students in the science department and to further the quality of researchers being produced by Fresno State.
"We send six students down to San Diego for the summer, and they get immersed in post laboratories there," added Bush.
The students attending this program do get paid. However, it is the experience that is coveted most. Bush talks about how this opportunity is in high demand, and only a select few can go each year.
"This is a cutting-edge, world-renowned research institute," Bush said. "We get close to 30 applicants for six spots. It's competitive."
Malika Sahni is a student in the science department and is currently working in Bush's lab on developing cells and finding out any links between pesticides and breast cancer—something that is very close to home in the Central Valley.
"I am creating the same environment we have in our body and breast so we can see pesticides effect on breast tissue and how it leads to cancer," Sahni said.
Meanwhile, biology graduate student Kathryn Patterson is working on another aspect of cancer research in Bush's laboratory.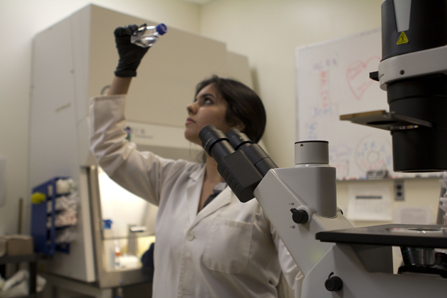 Malika Sahni, Biology
photo by Sergio Robles, The Collegian
"I am trying to determine (on an intercellular level) what is changing about the process within the cell that turns a normal cell into a cancer cell," Patterson said.
Although neither has attended the summer program, both talked highly about it. "That was really cool," Sahni said.
Fresno State's science department is ahead of the curve in many aspects when it comes to research and graduates in the field of science said Bush.
According to Bush, the science department has around 17 faculty members, all of which have their own laboratories and students working in those labs.
The summer program with Sanford Burnham is funded by the National Cancer Institute. There is limited space.
Details: Bush in the science department at 559.278.2068 or by email at jbush@csufresno.edu.
Additional Photos: