Serving the community we share
While Fresno State offers an impressive span of academic programs, it also seeks to educate and inspire students about the importance of giving back and serving others. In doing so, the university enriches student learning and development, and contributes to creating a better community through service and learning.
The commitment to community service has been a vital part of the university for decades. However, over the last several years, the long-standing commitment to service has started to show some dramatic results. In 2007, President John D. Welty challenged Fresno State's student, faculty, staff and administrators to volunteer 1 million hours annually by the university's centennial year in 2011. The campus surpassed that goal a year ahead of schedule when more than 12,000 students gave more than 1.16 million hours of service during the 2009-10 academic year alone!
That commitment has continued to produce big results. In 2010-11, the Fresno State community again volunteered more than 1 million hours of service. More than 13,700 students were involved, which was about 62 percent of the student body.
"It really is a unique part of our campus culture," said Chris Fiorentino, director of the Jan and Bud Richter Center for Community Engagement and Service-Learning.
This commitment to service benefits not only the recipients of the service, but the students as well. "It is much more than simple do-goodism. It goes to the heart of why we're here," Fiorentino said. "And, that is to make sure our students have an excellent learning experience."
Through a particular form of community service called "service-learning," students engage in service as part of specific course requirements. This not only enriches their learning, but it also instills in students civic responsibility and leadership skills that they carry with them the rest of their lives. Service-learning is often referred to as "academics in action." It helps students connect their classroom learning with hands-on services that meet important needs in the community. For some students, it may be the start of potential careers in community service.
Perhaps no single program best exemplifies Fresno State's dedication to this purpose than the Jan and Bud Richter Center for Community Engagement and Service-Learning. It is the hub for connections between the university and "community benefit organizations" or nonprofits.
Leah Rath, a 2011-2012 senior and psychology major, is one of the original members of the Richter Center Ambassadors program, in which participants serve as peer-to-peer proponents of service. She has seen first-hand what Fresno State's commitment to community engagement has achieved, primarily helping community benefit organizations.
"The more help they have," she said, "the more they can help the community." And, she noted, "College students bring an energy and fresh ideas that people haven't heard before."
Rath's fellow ambassadors include Kayla Lawler, a sophomore in 2011-12, and Jillian Bertolucci, a freshman. All three had experience in community service before coming to Fresno State. And, all three talked about the fulfillment that comes from helping others, even though they also maintain busy class schedules and other commitments.
"I just know this is a priority for me," said Bertolucci, whose major is mass communication and journalism. "It's a lot of juggling and balancing. But it's worth it."
One reason that Fresno State encourages students toward community engagement is the belief that students will continue this culture of service after they finish their university studies. Bertolucci said that is her plan after she graduates. Why? "Because I love it," she said. "I see the difference we can make."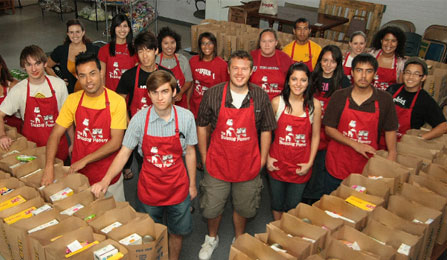 Lawler, a mechanical engineering major, said that students develop a deeper appreciation for the individuals who need assistance and the organizations designed to improve the quality of life in the Central San Joaquin Valley.
"I feel like I've been given a lot," Lawler said. "I don't feel everyone is so fortunate. So, if I can, even in the smallest way help them achieve their goals or take a burden off their shoulders, that's a really good use of my time."
One of the places Lawler volunteers is Bulldog Pantry, another prime example of the university's involvement in the community. The Bulldog Pantry is a food bank that was built and is operated by students.  The pantry serves low-income neighborhoods around the campus by offering food weekly to those in need.  The program serves more than 150 families each week.
Fiorentino said the Richter Center has about 200 community partners, like the Bulldog Pantry, that Fresno State works with on a regular basis. In addition, the Richter Center connects students to university programs such as Fresno READS (Fresno Reading Enrichment and Academic Development through Service) that trains students to mentor and tutor children in kindergarten through sixth grades. Another program is Jumpstart Fresno, in which Fresno State students tutor pre-school-age children, helping prepare them for school.
The formal history of the center began in 1988, when the university created a "Students for Community Service" program. In 2007, the program received a significant philanthropic boost from a couple known in the valley for their generous dedication to civic involvement: Jan and Bud Richter pledged $3.5 million to establish the Jan and Bud Richter Center for Community Engagement and Service-Learning.
It is the only endowed center of its kind in the California State University system.  In the same year the Center was established, Fresno State was one of the first 76 colleges and universities to be awarded the Carnegie Foundation's "Community Engagement" classification. The very next year, in 2008, Fresno State earned the Presidential Award for General Community Service from the Corporation for National and Community Service.  This is the highest possible federal recognition for a university's commitment to community service.
In 2010-11, the estimated economic impact of Fresno State's service-learning efforts was $26 million. But, more important, are what Fiorentino calls the "ripple effects" that spread throughout a community when people give and share and sacrifice to help their neighbors lead better lives.
"The statistics, like the number of service hours or the economic impact of those hours, don't begin to tell the story," he said. "The real impact can only be seen in the lives that are touched by our students on a daily basis."
It is a point that Bud Richter once addressed several years ago: "The people of Fresno State can shape the culture, economy and infrastructure in our future. You are providing students positive community service educational experiences. You are teaching students how to give back to their community through their volunteer service. It is a win-win for everyone."