Donors' generosity demands responsible stewardship
At Fresno State, every gift is treated with respect, appreciation and diligence.
Donations help fuel Fresno State's mission to provide a high caliber education to thousands of students and to support the research and work of talented faculty members.
"To me, ethical stewardship means that we take great care to ethically and carefully use the resources that others give to us," said Dr. Peter Smits, vice president for University Advancement.
It is a matter of trust and dependability. The university oversees donations that amount to tens of millions of dollars. For example, the university's largest fundraising effort in its history – the current Campaign for Fresno State begun in July 2005 – has raised $178 million toward its goal of $200 million. More than 80 percent of the amount goes to academics.
The university adheres to the Donor Bill of Rights set forth by the Association of Fundraising Professionals. These rights include the assurance that contributions are spent on their intended purposes and that recipients of donations use cautious judgment in the stewardship of gifted funds.
Contributions come in amounts of every size, and each is acknowledged and recognized. "In every case, we have the obligation to ethically steward every one of those gifts, whether they're large or small," Smits said.
Donations have helped support Fresno State's schools and colleges as well as countless university programs. For example, Earl and Muriel Smittcamp and their family contributed the initial $1 million to create what is now known as the Smittcamp Family Honors College. The Downing Planetarium was made possible by a multi-million dollar donation from Dr. Harold Downing and his family, Tom and Cynthia Downing.
The generosity of donors also supports Fresno State's many scholarships.
"When an individual or organization gives us a scholarship to further the education of students, we have the ethical responsibility to find the student, to provide that student with all the care and direction that he or she needs to successfully complete a college career," Smits said. "Because that is what the donor had in mind. They want to help somebody."
A number of scholarships also bring up another example of judicious guardianship: endowments. Under this arrangement, the principal typically is invested to provide a long-term source of revenue. Annual awards then are funded by the interest earned from the principal amount. (On some occasions, a donor will designate an endowment as "unrestricted," which gives Fresno State flexibility in deciding how to use those funds.)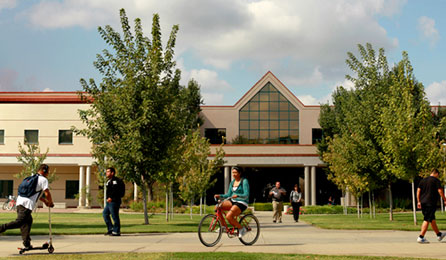 Endowments at Fresno State include the Husband-Boeing Honors Scholars Program in Engineering for aspiring engineers. The Boeing Company's $2 million endowment created the program in honor of Col. Rick Husband, who earned a master's degree in mechanical engineering from Fresno State in a university program at Edwards Air Force Base. On Feb. 1, 2003, Commander Husband and his crew died when the space shuttle Columbia broke up during re-entry into the Earth's atmosphere.
Smits said the university invests money from endowments wisely, prudently and conservatively. "We don't take a lot of risk with the money," he said. "People have given it to us to hold in trust."
In these days of a struggling national economy, contributions take on greater significance for public universities dealing with harsh budget cuts as the consequence of major funding reductions made by the state. "There really isn't any question that private support for these public schools like CSU and UC is going to be more important than ever," Smits said. "All you have to do is look at what's going on with the [state] budget."
Effective and ethical stewardship of donations means that individuals and organizations can have confidence in how Fresno State manages their gifts. And, it also shows potential donors that they can trust and rely on the university to protect their educational investments.
As Smits said: "We have an ethical and a moral and an institutional responsibility to safeguard the assets given to us to advance the purpose of the university."