Cultivating our campus human resources
Just as Fresno State wants its students to excel and succeed, the university also is a place that encourages its employees to grow and thrive.
Thousands of people work at Fresno State, forming the pillars of strength, spirit and creativity that have bolstered the campus through its first 100 years and now into its next century.
To support its faculty, staff and administrators, the university has increased its efforts in areas such as lifelong learning, professional development, civic involvement and wellness.  As a result, not only does the university benefit but so does the region.
"We're trying to make a better place for us and the people who we serve here in the central valley of California," said Cynthia Teniente-Matson, vice president for administration and chief financial officer.
Matson said it is the university's goal and hope to create an inviting atmosphere for everyone who comes to Fresno State, and that includes its staff and faculty. "We really focus on creating a welcoming environment for our work force," she said, "so that they feel comfortable as well as encouraged to create that same type of environment for all those we serve here in the university community and the Fresno State community."
"We try to do this by emphasizing inclusiveness, being open to diverse perspectives, being open to and respectful of various opinions," Matson said. "The university strives to be a place where people can come to express all perspectives, including differences, and valuing the differences that we each bring."
At Fresno State, the commitment to lifelong learning is held in high regard. To nurture the potential of employees and broaden their expertise, the university offers programs that enhance abilities and expand employees' knowledge on pertinent topics.
When it comes to professional development, the university is committed to providing diverse and in-depth training. In recent years, this has become an even larger focus because of fiscal constraints stemming from the state's budget crises. Matson said Fresno State has been "very aggressive" in creating and participating in quality programs.
For example, REAL, or Regional Education for Achievement in Leadership, is aimed at broadening the leadership talents of managers and administrators. The program deals with a variety of topics, including communication and managing conflict. REAL also cultivates professional relationships between colleagues through interactive discussion involving case studies and skill-building activities aimed at collaborative problem solving.
Another program is LEAD, or Learning for Excellence and Development, which offers a spectrum of beneficial courses and workshops in five thematic "tracks." For example, Track 1 covers technology development and offers computer and web training courses targeted at creating an understanding between new technologies and their value in the workplace. Track 2 involves customer service, with courses that include time management and communication. Participants in LEAD are eligible to earn a certificate of recognition to honor their commitment to personal and professional development.
In May 2011, Fresno State hosted its first annual STAR Day to celebrate employee achievements (STAR stands for Staff Training And Recognition). The university has held an annual staff awards program for more than 44 years; however STAR Day expands the recognition ceremony into a full day of recognition, professional development and commemoration of another successful year.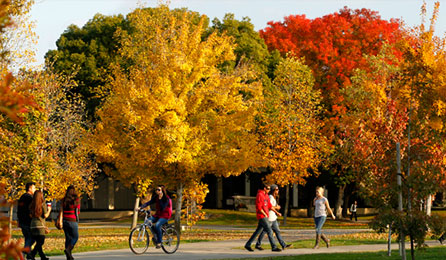 Another vibrant part of the Fresno State experience is public service and volunteerism. "We encourage employees to be engaged in the community, to be involved," Matson said. "We do that because we think it's part of what makes them a better university citizen."
The campus, for example, has a policy regarding release time for staff to volunteer for community service when civic projects can use their valuable expertise.
University employees, in fact, were part of a recent significant Fresno State accomplishment. In 2007, President John D. Welty challenged the students, faculty, staff and administrators to volunteer one million hours by the university's centennial year in 2011. The campus surpassed that goal a year ahead of schedule and then did it again in 2010-11.
Fresno State also understands the importance of well-being and health in people's lives. The campus offers an array of services and programs in this area, including the office of Employee Assistance and Wellness.
Fresno State's purpose, of course, is to educate and prepare students for careers and lives beyond the university. But it relies on the vigor, experience and dedication of its employees to keep Fresno State a top-notch institution.
And, with that, comes the responsibility of working for a university that receives public funds and is serving the public good.
"We always, always, always encourage people to act with integrity and not to compromise their standards," Matson said. "We try to build this framework, with all these support programs to help people have this open, inclusive, welcoming environment. It's valuing learning, valuing all these things that we believe build on integrity and doing the right thing."